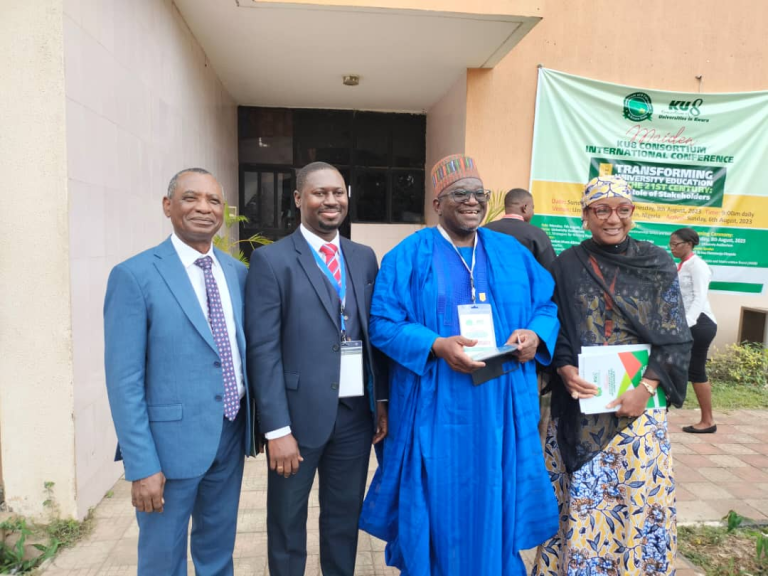 In a remarkable testament to his steadfast dedication and unyielding support for education, Dr. Akeem Oyewale, the CEO of Marble Capital, was recently bestowed with a distinguished award of recognition at the inaugural KU8 Consortium International Conference. The event, held from August 6th to 9th, 2023, at the esteemed University of Ilorin, marked a momentous occasion for celebrating collaborative efforts in advancing education. The conference revolved around the theme "Transforming University Education in the 21st Century: The Role of Stakeholders, "drawing luminaries from academia, corporate entities, royalty, and religious communities.
At the heart of the KU8 Consortium of Universities in Kwara State lies a fundamental mission to cultivate profound relationships, nurture academic alliances, and forge institutional
collaborations. This synergy enables joint efforts in fulfilling the crucial university mandate of teaching, research, and community service. Driven by this mission, the consortium has embarked on a journey to elevate the standards of education and foster a robust ecosystem for learning and development.
Dr. Akeem Oyewale's award of recognition resonates deeply with his enduring commitment to education, exemplifying his pivotal role in propelling the KU8 Consortium's aspirations forward.
His continuous support and contributions have amplified the consortium's endeavours, charting a course for educational enrichment in Kwara State and beyond.
The conference itself emerged as a melting pot of visionary minds where academia, corporate leadership, and community influencers converged to deliberate the evolution of university education. Eminent figures graced the occasion, including luminaries like His Imperial Majesty Ooni Adeyeye Enitan Babatunde Ogunwusi, CFR, Ojaja II, the Ooni of Ife, and His Royal Highness Alh. (Dr.) Ibrahim Sulu Gambari, CFR, the Emir of Ilorin. Community and religious leaders, along with accomplished academics, collectively contributed to the vibrant discourse.
The event's significance was further underscored by the insightful discourses delivered by distinguished speakers revered in their respective fields. Notable figures like Professor Ishaq Olanrewaju Oloyede CON, the Registrar of the Joint Admissions and Matriculation Board(JAMB), graced the event as a keynote speaker. Additionally, Mr. Chris J. Maiyaki, the Acting Executive Secretary of the National Universities Commission (NUC), and Professor Musbau Akanji FAS, former Vice-Chancellor of Al Hikmah University Ilorin and Federal University of Technology Minna, enriched the proceedings. 
Dr. Akeem Oyewale's recognition is a tribute to his visionary leadership and his unswerving dedication to education. It also reflects the transformative power of collaboration as he bridges the corporate and academic worlds to amplify educational growth. His contributions align perfectly with the consortium's mission to reshape the educational landscape into one founded on academic excellence, mutual support, and shared purpose.