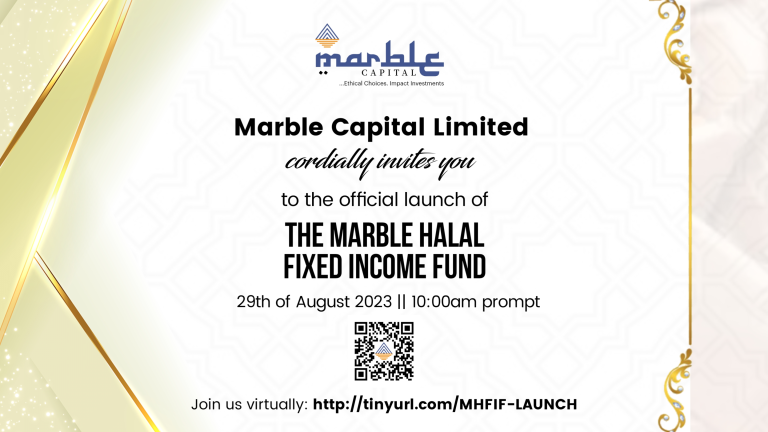 In a groundbreaking move that fuses financial growth with ethical responsibility, Marble Capital Limited is set to unveil the Marble Halal Fixed Income Fund on August 29th, 2023. This much-anticipated launch invites individuals from all walks of life to join the event virtually and witness the emergence of an investment avenue that caters to both financial aspirations and moral principles.
The Marble Halal Fixed Income Fund is an embodiment of the growing trend towards responsible investing. Designed to cater to those who seek financial stability while aligning with Halal principles, the fund provides an opportunity to participate in the economy while upholding one's personal values.
The fund offer its investors:
Ethical Resonance:

This fund resonates deeply with investors who prioritize ethical alignment, as it adheres strictly to Halal principles.

Consistent and Competitive Returns:

With a focus on fixed income, investors can expect a steady stream of income, fostering financial stability.

Diversified Portfolio:

Managed by a team of financial experts, the fund is diversified across various Halal-compliant investment instruments, mitigating risks and optimising returns.

Expert Stewardship:

Professionals and ethical advisors collaborate to ensure investments are both lucrative and ethically sound.

Community Enrichment:

By participating in the Marble Halal Fixed Income Fund, investors contribute to the growth of businesses and initiatives that resonate with Halal values, fostering a positive impact within communities.
The virtual launch of the Marble Halal Fixed Income Fund provides an accessible opportunity for engagement. Interested individuals can simply use the provided barcode or link to access the live event. Attendees can expect to interact with like-minded peers, gain insights from industry leaders, and witness the introduction of an investment avenue that melds financial prosperity with ethical accountability.
For those who believe that financial decisions should mirror their values, the launch of the Marble Halal Fixed Income Fund on August 29th is an event not to be missed.