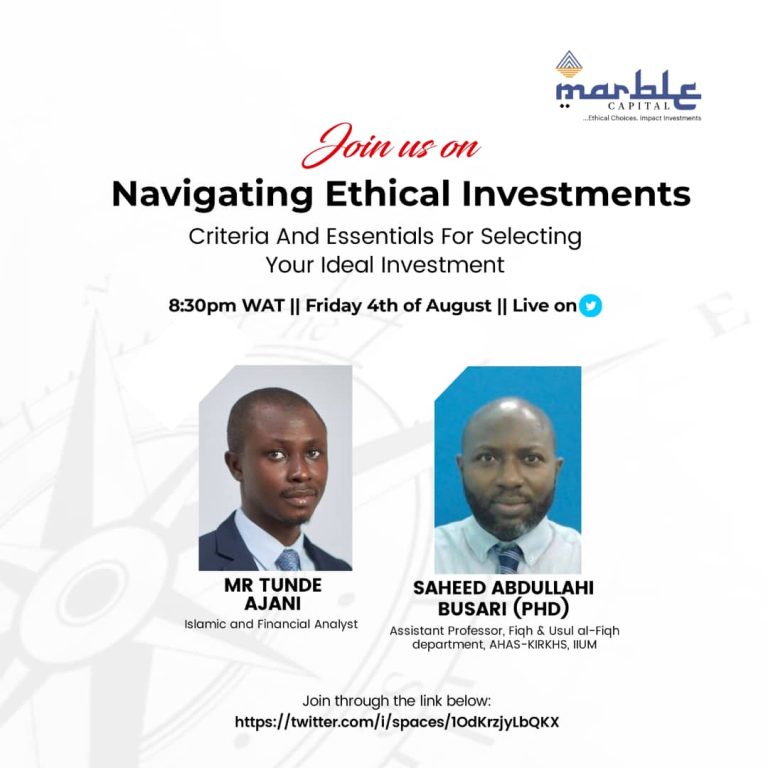 Marble Capital Limited has announced that the company will hold a Twitter Space to discuss "Navigating Ethical Investments: Criteria and Essentials for Selecting Your Ideal Investment".
The Space is scheduled to hold on Friday, 4th of August, 2023, 8:30pm WAT, according to Ms. Olaitan Suleiman, the company's Public Relations Officer.
She further disclosed that Saheed Abdullahi Busari (PhD), Assistant Professor at AbdulHamid A. AbuSulayman Kulliyyah of Islamic Revealed Knowledge and Human Sciences (AHAS KIRKHS) in Malaysia as well as Mr Tunde Ajani, an Islamic financial officer will be doing justice to the topic.
Interested persons are to join the Space via https://twitter.com/i/spaces/10dKrzjylbQKX
Marble Capital Limited is a leading ethical investment firm in Nigeria has its services range from Portfolio management to financial and Shariah Advisory and ESG.
Recall it recently launched the first commodity Fund licensed by the Securities and Exchange Commission (SEC), the Marble Halal Commodities Fund, open for subscription through the Company's website, www.marblecapitalltd.com.
It also held a Twitter Space on Friday, July 21, 2023 where "Impact Of Inflation On Commodities Investment"